Advantages & Disadvantages of In-House Training
News
21 July 2022
Saurav Sharma
Recent posts
---
---
Choosing a training course for your employees can be a tough process. L&D teams spend countless hours browsing through a myriad of courses looking to find the one that will fit their team best. However, even after this, one of the most common concerns for training leaders is deciding whether to hold onsite training, or to send employees to external classroom training courses.
Whilst it may seem like the easiest way to train your team, onsite training isn't always the perfect solution for every situation. In fact, the majority of businesses opt to send their employees on external training courses. Ultimately, it rests on what you are looking to gain from the training exercise.
To help with this decision, we have put together a guide outlining the advantages and disadvantages of onsite training.
Advantages of Onsite Training
Low cost
Paying for training courses individually in an ad hoc fashion can be expensive. By staging an open invitation to onsite training, companies can train more people for their budget, as they are only paying the costs of the trainer for one session. This is highly advisable if you have more than five employees taking part in a course.
Furthermore, you won't need to pay any of your employees' travel and accommodation costs, which can be costly considering the lucrative nature of fuel, public transport and hotels. This could free up funds for businesses to spend elsewhere.
Focused training
Running onsite training for your company allows you to mould the course, focusing on topics that are relevant to your business. Prior to the course date, we can arrange a meeting where you can outline your desired outcomes for the training, allowing you to tailor the course to your needs. This is highly advantageous, as other training courses (such as e-courses) tend to be generic and non-industry-specific.
Can use work examples
Onsite training allows you to use examples from your company as case studies within the course content. By applying the taught methodology to real-life situations, the ideas outlined in the training become more tangible and accessible to delegates. Discussions relating to real problems, which can be advised upon by the impartial trainer, can significantly benefit the team's future working behaviour.
Team bonding exercise
Onsite training allows employees from different departments and levels of seniority to communicate and work together, thus encouraging teamwork. This kind of learning environment is often the best way to learn as it can lead to larger awareness of other employees' roles, resulting in new-formed friendships and increased staff morale.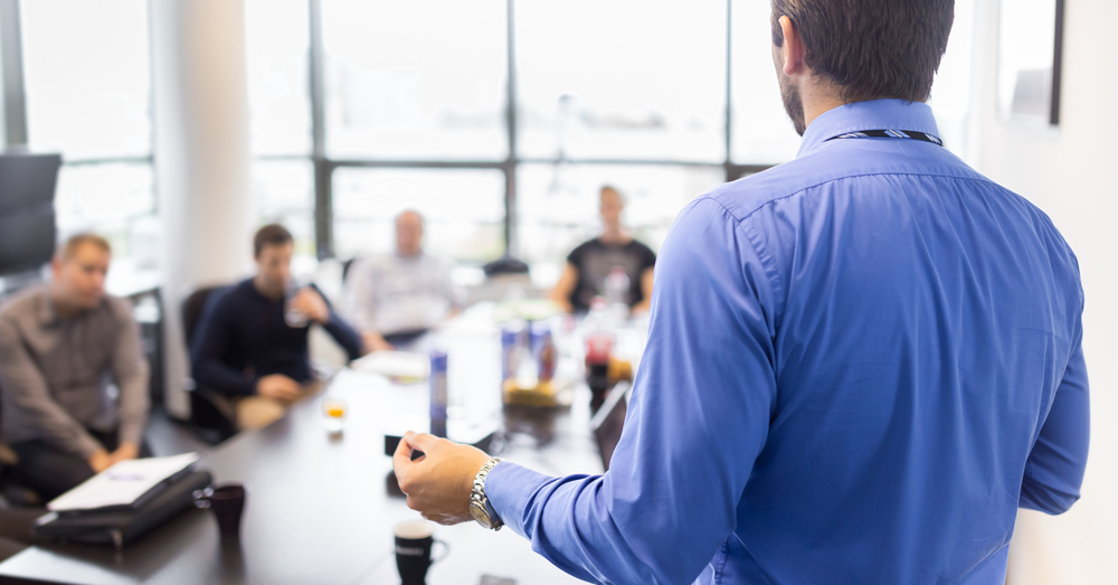 Photo credit: Matej Kastelic / Shutterstock
Disadvantages of Onsite Training
Extra admin
Although you save money by running onsite courses, there is significantly more admin required. Requirements of onsite sessions include organising a suitable training room and ensuring the correct equipment is available, such as projectors, laptops and tablets etc. Moreover, there is also process of creating bespoke and tailored courses, which can sometimes be drawn out. These obstacles consume time that may come at a premium in your business.
Dedication may be compromised
As employees are still in their office, they can become distracted by current work. This occasionally results in delegates being removed from the training altogether to complete an urgent task.
Furthermore, it could be argued that keeping the training course onsite may bring a perception of it not being as important as a course at an official training centre.
No networking
As well as the course itself, another key component of most training is networking. Not only is this a great way to market your company, it is also an opportunity for employees to meet likeminded people and build working relationships, which is valuable in any industry. However, with an onsite training course, delegates will not interact with anyone from different companies, thus missing out on insights into other companies' methods and styles of working.
There are many advantages and disadvantages of onsite training, but the value of each of the points mentioned varies from company to company. Once you have decided on which area to train, it is crucial to review what you want to get out of your training sessions, and weigh up whether onsite or external training is best for you and your company.
If you have any questions regarding in-house training, please do not hesitate to get in touch with the team. We're more than happy to assist you.
Feature image credit: Matej Kastelic / Shutterstock
Comments
Nobody has commented on this news article yet.
Comments
Nobody has commented on this news article yet.
Back to top